Used Airbags
How to Find Used Airbags
If you're in the market for used airbags, you've come to the right place. Simply complete the form above, and within minutes you'll receive quotes from our network of reputable sellers.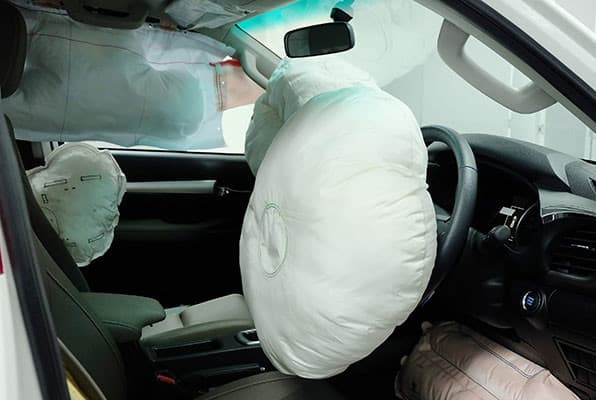 Why Choose Johnny Frank's Auto Parts?
In 1910, two expert mechanics began purchasing wrecked vehicles and salvaging usable parts. Within a few years they were using the tagline, "The house of a million parts," and filling orders for the United States government.
Since that time, Johnny Frank's Auto Parts has continued a service of quality, affordability and access to numerous broker inventories. Of course, we've taken it to the next level as an online service, which allows us to expand our resources and capabilities to the entire country.
A lot of people wonder if used airbags are safe. The answer lies in how you define "used." An airbag that had been deployed/deflated must be discarded.
However, a lot of salvaged vehicles have good airbags that have not been deployed. This could happen for a number of reasons. Maybe an accident did not cause them to deploy, the car had a mechanical failure, or something else.
When it comes to safety features like airbags, which can save the lives of you and your passengers, quality and compatibility are vital. But new replacement airbags can get extremely expensive.
Our brokers' used airbags were in other cars, but never deployed. So you get the ultimate in safety for a fraction of the cost.
You could spend hours and even days making phone calls and driving around town to find the right used airbags for your vehicle. Your options will be limited, and the parts you need might not even be available in your area.
At Johnny Frank's, we connect you with a large network of reputable brokers as soon as you complete a simple form. We make door-to-door shipping easy — our sellers ship anywhere in the nation to either you or your mechanic. You never even have to leave the house.
Using a state-of-the-art computerized inventory system, we scan literally millions of used parts in minutes, including used airbags, and the quotes start rolling in. When you have the used airbags in place, rest assured knowing you have your brokers' standard or extended warranty.
To get started searching for air bags, simply complete the form below.